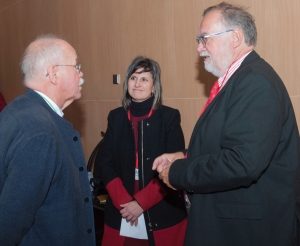 The event started with the opening speeches by Isabel León-Pérez, Director of ULL's Secretariat of University Extension and Social Projection (in representation of Francisco Javier García Rodríguez, Vice rector of Relations with Society, who due to schedule issues excused his absence). Together, with IAC's representative, José Alfonso López-Aguerri and Pablo Redondo, IACTECH Technological Manager (an IAC's technology spin-off) highlighted the will of both ULL and IAC (as a consortium in which ULL takes a key part) to strengthening the cooperation with initiatives which could help to transfer the knowledge generated in astrophysical research and in academia to the islands' society, contributing to turn the Tenerife and the Canary Islands into  Knowledge Societies. All representatives as well praised the impact of initiatives such as Humboldt Cosmos Multiversity in getting to the people both the potential of the knowledge and the discoveries made between these centers' walls.
After these speeches, our president and NCP co-founding member Günter Koch took the word to thank both ULL and IAC for the cooperation in the organization of the event, and Eduardo Pintado (former counsellor of Commerce and Trade at  Cabildo de Tenerife), for his contribution and key role in the first phase of Humboldt Cosmos Multiversity initiative development. Günter Koch also expressed his appreciation of all Humboldt Cosmos Multiversity collaborators in its most recent initiative, hosting a group of business students from Kempten University of Applied Sciences (Bavaria, Germany), as they visited ITER, ULL, Instituto Español de Oceanografía (IEO) or Santa Cruz de Tenerife's Port Authority. Mr. Koch also thanked the local government and the mayor of Tacoronte, Mr Álvaro Agustín Dávila González the cooperation on easing Humboldt Cosmos Multiversity's facilities at "La Casona", as also on spreading Humboldt Cosmos Multiversity's activities all over the north of Tenerife.
Mr Koch's speech was followed by a brief presentation on the Canary Islands economy and its recent trends in key fields, by Rodrigo Trujillo, Humboldt Cosmos Multiversity Vice-President. The main idea behind both presentations was convergent: the future belongs to knowledge societies, whose advantages are based on high-skilled workers, dynamic and innovative firms, high-value added sectors, and the stronger non-tangible asset: human capital.
After Mr. Trujillo's presentation, Günter Koch also introduced briefly NCP's activities and products to the audience. The Club's main goal is to raise awareness of what the knowledge society is and aims at.
In this part of the venue, the event's purpose was to discuss how such considerations could contribute to make our land, Tenerife, become an island of progress and welfare, generating opportunities for its inhabitants. With that purpose in mind, our main guest and key note speaker,  NCP Vice-president, Leif Edvinsson took the word in order to give us some insights and guidelines on how Tenerife could become this type of society, based on a knowledge-intensive driven economy. Mr. Edvinsson is one of the world's top experts in intellectual capital methodology. He is former Chief Financial Officer of Scandia Insurance Company and has worked as advisor for Swedish Ministry of Foreign Affairs in new economy and digital trends issues, as well as for the United Nations' Centre for International Trade.
After the analysis of Mr. Edvinsson, Tenerife has huge hidden potential; the island offers at the same time a very high life quality as an important reserve of human capital, with highly developed infrastructures, and cutting-edge researching centers such as IAC, ITER or IEO. According with to Mr. Edvinson, Tenerife has the potential and the necessary resources to do that, but needs from a stronger political will to set it all up and to boost knowledge intense industries and initiatives all over the island. Leif Edvinsson also pointed out the need of the society to count with more political entrepreneurs. Political entrepreneurs are, according to Alvin Carpio, member of World Economic Forum's Expert Network "…people who create ideas and innovations, and acts as new leaders in the field of politics. They are individuals and groups who seek to improve the science and art of politics through disruption (…) people who come up with new ways to solve political problems in terms of political philosophy, political technology (…) and governance…". In that direction, northern Europe countries  as Sweden have created its own institutions such as "Ministries of The Future" –an institution in charge of the strategic development and the future challenges that a country will face in the mid-long term. Moreover, Mr. Edvinsson also stressed the potential of open data in order to provoke this shift towards data-driven smart governments and business.
To conclude the event, all the agents involved, from IAC to ULL, articulated  their predisposition to set up, jointly with both Humboldt Cosmos Multiversity and the NCP a new event to keep working on knowledge subjects in science, astrophysics, technology and the knowledge society's potential, for diffusion in the Canary Islands and Tenerife, in specific.
From Humboldt Cosmos Multiversity's team, we want to thank all our collaborators which have contributed to this event, especially Instituto de Astrofísica de Canarias and Universidad de La Laguna for easing us and preparing the conference room, as well as for facilitating the diffusion of the event as its outcome as well.
See more media reactions: Humboldt Cosmos Multiversity , The New Club of Paris, Universidad de La Laguna and Instituto de Astrofísica de Canarias' event: Tenerife, a knowledge island"